Biomedical Career Advancement Program (BCAP) 2021 Application Now Open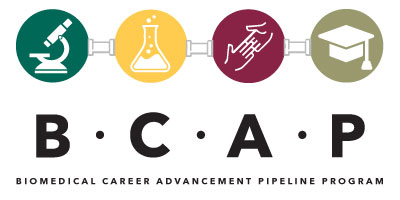 The 2021 Biomedical Career Advancement Program (BCAP), a summer research experience for high school students (grades 10-12) interested in pursuing careers in heath science, is now accepting applications. BCAP is a collaborative program between Wayne State University School of Medicine (WSUSOM), Michigan Area Health Education Center (MI-AHEC), Detroit Wayne Integrated Health Network (DWIHN), and Detroit Public Schools Community District (DPSCD). BCAP was established in 2014 by Jennell White, PhD. Dr. White is an Assistant Professor in the Department of Pharmacology at WSU-SOM. The application deadline is February 15, 2021.
Due to the current pandemic, the program will be completely held in a virtual environment. Students will be matched with a faculty mentor and will complete a research project and present their findings in a closing ceremony. Students will also attend professional development sessions conduct laboratory experiments. After successfully completing the BCAP Program and presenting their research projects, students will receive a stipend and certificate at the closing ceremony on August 6, 2021. 
BCAP 2021 students will be eligible to apply to the new BCAP Scholars Program in fall 2021. The BCAP Scholars Program targets high achieving, junior-level high school students from our summer research program to compete for a 1-year, intensive training fellowship to further develop summer research projects with WSU faculty mentors for presentation at WSU's Junior Science and Humanities Symposium (JSHS), provide personalized SAT test preparation, and strengthen oral and written skills for college interviews and college essays, respectively. For more information about BCAP, visit: https://miahec.wayne.edu/southeast/highschool