Cara Crawford-Bartle, MD: A Journey from Becoming to Being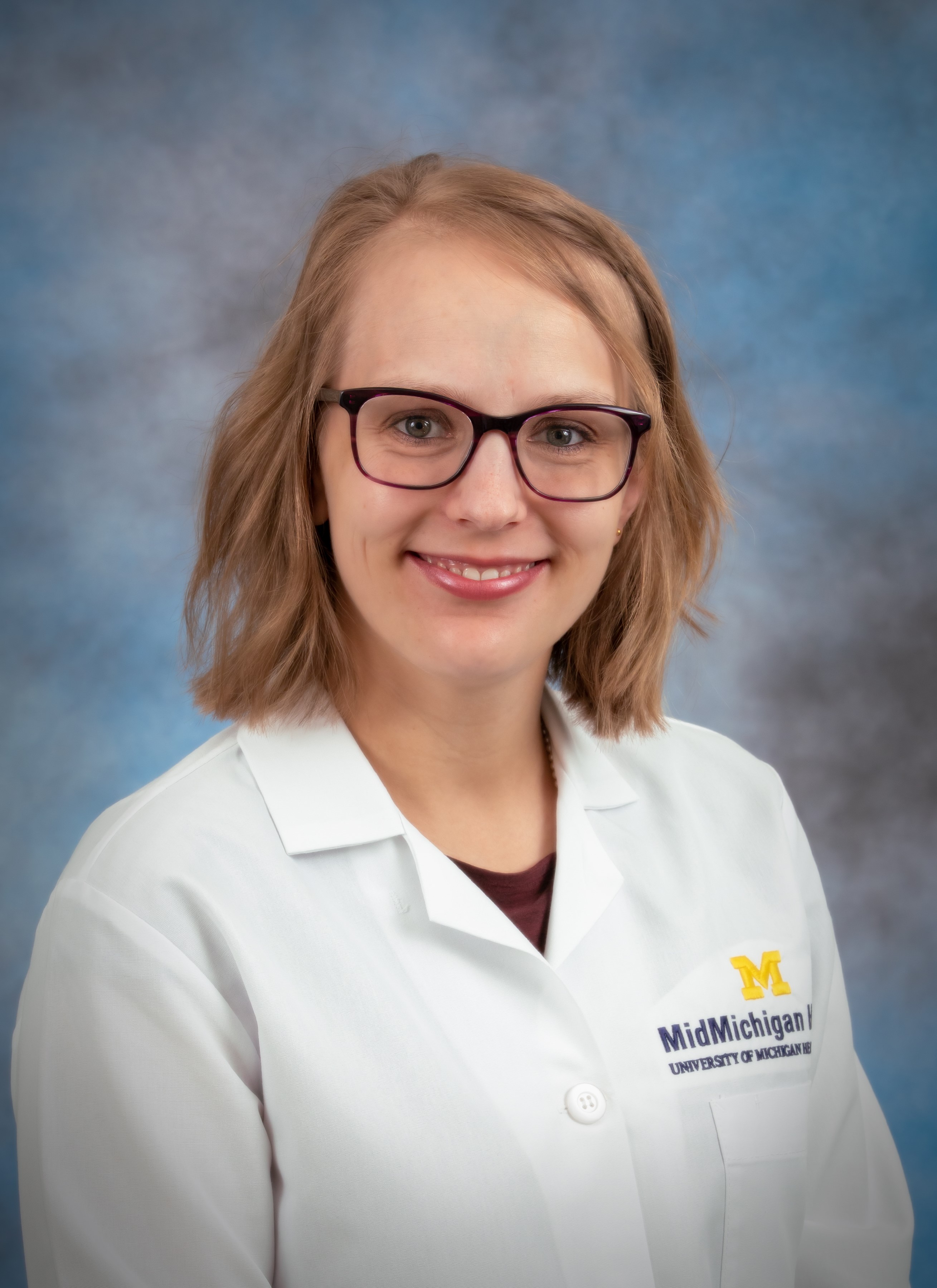 "What do you want to be when you grow up?" We have all asked a child that question at some point in time. When you ask, there are all sorts of answers – from princess to marine biologist, with endless possibilities in between. As a middle school student growing up in West Branch, a picturesque little town in northern Michigan, Cara Crawford-Bartle remembers wanting to work in healthcare.
Connecting -- Students to Careers
When Cara was a senior in high school, armed with plans to attend Northern Michigan University (NMU), she was notified that she met the required qualifications to apply for an early admission partnership program between NMU and the Wayne State University School of Medicine (WSUSOM). Cara seized the opportunity, even though she admits she had no idea what medical school entailed. She thought, "why not?!"
As fate would have it, Cara was one of two NMU students selected for the program that year, securing her place in the WSUSOM class of 2017. Cara went off to NMU knowing she could change her mind. However, she loved her physiology class so much, she knew her decision to pursue a career in medicine was the right one.
During her senior year at NMU, being the "planner" that she is, Cara also applied and was accepted to the National Health Service Corps (NHSC) Scholars Program. The NHSC Scholars Program provides scholarships for those who qualify and commit to working in rural or medical-underserved area. Cara was committed to working in an underserved area and the NHSC scholarship helped ensure her placement, preferably in a rural area.
In the spring of 2013, Cara relocated to downtown Detroit and began to prepare for her classes in the fall at WSUSOM. Once classes began, Cara found it amazing to find that most of her peers were not planning to use their education to work in rural or medically underserved communities. She thought everyone would be clamoring for a spot in a rural service area. This made her feel a bit out of place for the first few months of medical school. Fortunately, Cara discovered like-minded peers when she became involved with the Rural Medicine Interest Group at WSUSOM. This was a turning point for her and she began to really enjoy her medical school experience.
Through her involvement with the Rural Medicine Interest Group, Cara became involved with the Robert R. Frank Student-Run Free Clinic at WSUSOM. Fast forward to her third year of medical school, when representatives from the Health Resources Services Administration (HRSA) and NHSC were coming to WSUSOM. Cara was asked to speak about her experience with the NHSC. At that presentation, Cara met Rachel Ruddock from the Michigan Center for Rural Health (an AHEC community partner), who handles the NHSC loan repayment program. Cara briefly discussed her future plans with Rachel. At that point, Cara was planning to move and complete her residency somewhere out West.
Connecting -- Professionals to Communities
Ultimately, Cara chose the Upper Peninsula as the spot to complete her residency training. Cara advocated for and assisted in establishing a syringe service program in Marquette County. Cara was also honored by the Michigan Academy of Family Physicians as their Resident of the Year in 2019.
Around that time, Rachel Ruddock saw an article that cited Cara for her involvement in the syringe service program. She remembered Cara's desire to work in a rural area and let her know of Federally Qualified Health Centers who were hiring. As luck would have it for the Northern Lower Regional Center, Cara was put in touch with MidMichigan Community Health Services, host partner for the Northern Lower AHEC Regional Center, regarding an open position. Cara began her career with MidMichigan Community Health Services in August, serving patients in the tiny rural town of Beaverton, MI.
Connecting – Communities to Better Health
When we asked Cara about challenges and rewards of becoming a doctor, she made some clear distinctions. She said the most challenging part of becoming a doctor was learning so much at a very fast pace, but the most challenging part of being a doctor was not having all the answers, as hard as you might try. For Cara, a fulfilling part of becoming a doctor is experiencing tremendous growth in maturity and knowledge during those years of hard work, but the most rewarding part of being a doctor is seeing her patients achieve their goals and celebrating their achievement. She has her eye on a Master's Degree in Public Administration at some point in the future. She would also encourage other health professions students to choose to rotate in rural/underserved areas, especially those unsure if the setting is a good fit. Cara says that she still hopes to be working at MidMichigan in five years.
All the connections in this story helped transform Cara from a girl with healthcare dreams in rural northern Michigan, to a full-fledged physician providing care to the underserved in a rural community. The Northern Lower Regional AHEC feels lucky to be a part of that journey.