News from the Mid-Central Region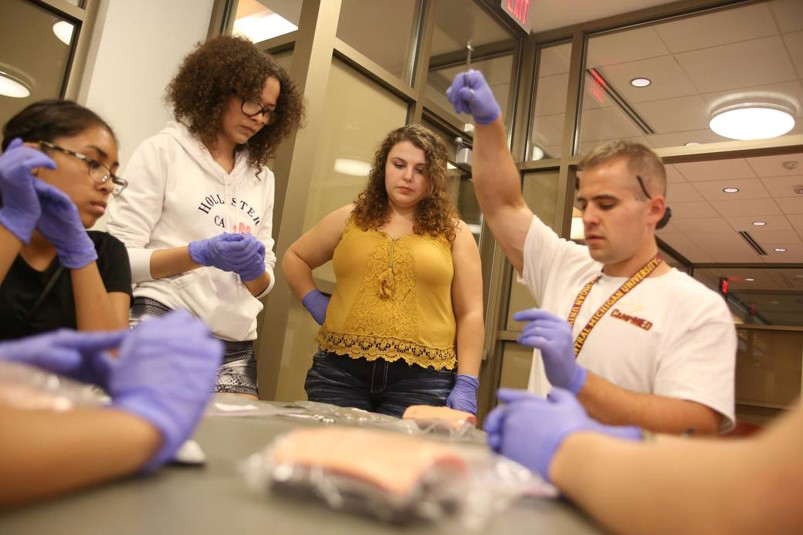 CampMed: June 27-29, 2017
Mid-Central AHEC will collaborate once again with Central Michigan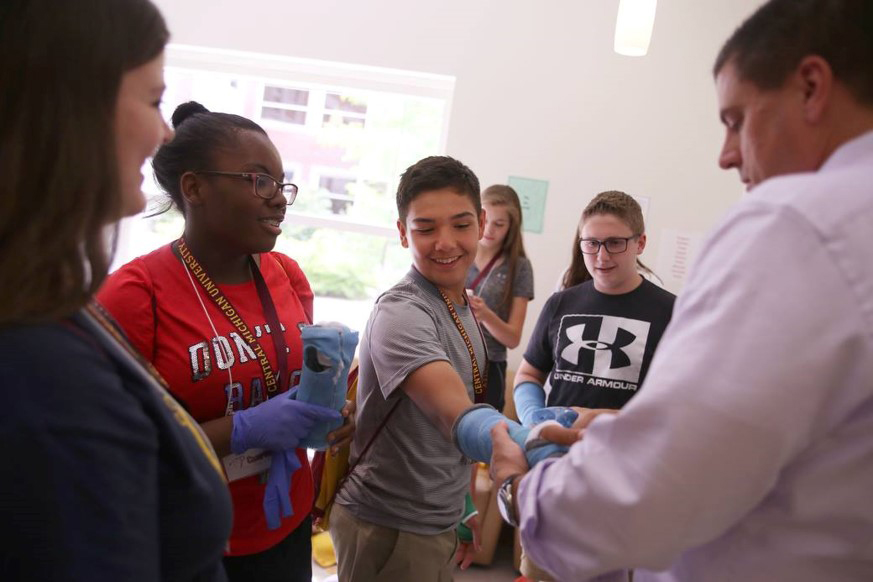 University College of Medicine for CampMed. In its third year, it provides a three-day summer leadership opportunity offering focused exposure to a career in Medicine. Students from under-represented groups in medicine are given first consideration during the application process. It specifically targets URMD students and invites highs school students from the urban core of Saginaw in addition to remote rural first generation families identified in the Mid Central AHEC region of Michigan.
Throughout the CampMed week, students are exposed to the elements of medical school and college life. Staff, faculty and current medical students engage with the participants in hands on demonstrations and activities. Various offices across campus including the Mid-Central AHEC provide vital information that is important to the students' higher education path, including pre-professional academic advising, financial aid, student life and the understanding of the need for medical providers in underserved areas of Michigan.
Health Career Pipeline Program
M1 students at CMU College of Medicine recently presented their poster for the "Poster Presentation on Service Learning Projects."   Their project was the nine week Health Career Pipeline Program created in partnership with the Mid-Central AHEC. Adam and Chioma worked diligently with second year medical students and the AHEC staff to host this enriching and engaging experience for 9th and 10th graders from surrounding high schools. Next year Adam and Chioma will be the senior students assigned to the program along with AHEC staff. Each fall approximately 17 high school students and 17 mentors form various health programs at the College of Health Professions at CMU participate in the Pipeline Program. This program is supervised and managed by medical students and the Mid-Central AHEC staff members, Lisa Hadden and April Osburn in the fall of each year.  Medical students receive Service Learning credits for their work in the program.
Speaking Engagements and Workshops
This was a busy winter and early spring for Mid-Central AHEC staff. Executive Director, Lisa Hadden, was invited to speak in February at the American Association of Medical Colleges (AAMC) in Washington DC to eight national teams participating in "Healthy Equity Through Community Partnerships" Project. She presented on using an Asset based Community Development approach when working with community members to conduct assessments.  Focusing solely on needs and deficits does not tell the entire story of the community.  Focusing on community assets, and individuals' gifts, talents and skills, provides a working base to accomplish mutual goals.
Ms. Hadden also conducted a workshop at the "Small Towns and Rural Development" conference on April 11th in northern Michigan. The workshop provided an overview of how rural towns can tap into the network of health professions students in clinical rotations as a way to attract talent, and early recruiting of health professionals. Highlighting the work completed by the Mid-Central staff with the Sterling Area Health Center, provided a great deal of interest in this topic. Mid-Central staff will be following up with two new communities.
Upcoming IPE Conference for Mid Central Staff
In IPE news, Mid-Central staff is invited to join a team of faculty across various health professions at CMU to develop an IPE project. Staff will be traveling to Washington DC in May to participate in the National Center for IPE Conference. Entitled, "IPE: Building a Framework for Collaboration," this learning summit will assist teams from various universities define and refine their approach to their individual learning projects. Mid-Central is looking forward to participating in this exciting opportunity.