Mid-Central Regional Center Update
Thumb Health Career Pipeline Program
In early January, the Thumb Community Health Partnership (TCHP) further implemented health career pipeline programming in the region with support from the Michigan Health Endowment grant for Health & Human Service Workforce Development Youth Programs and collaborative partners including the Mid-Central AHEC. This newest program is being provided to Huron County high schoolers interested in exploring the health a
nd human service career opportunities available in the area and beyond. Additional mentorship is being provided to participants from Central Michigan University undergraduate pre-physician assistant and graduate medical students and local employees from McKenzie Health System, Scheurer Hospital and Huron Behavioral Health to name a few. Throughout the eight-week program participants have explored careers spanning from public health to nutrition, emergency medicine to mental health and more. This high school program will end in early March, and the TCHP will begin their second middle school program held in Sanilac County throughout the spring.
Saginaw Area Health Career Pipeline Program
In collaboration with Central Michigan University (CMU) College of Medicine
, the 4th Annual Saginaw Area Health Career Pipeline Program for 9th and 10th graders interested in health careers hosted by the Mid Central AHEC kicked off in early March. This year's program brings together 30 students from seven urban and rural schools throughout Saginaw County to experience health career exploration, college mentoring, and leadership development experiences. This program is made possible by a trust managed by Huntington Bank and key collaborations with Covenant Healthcare members and the CMU medical student facilitators. Throughout the eight-week program, students will participate in skill-expanding activities related to nutrition, CPR, and 'Stop the Bleed' along with exploring careers across the health industry including public health, medicine, nursing and more.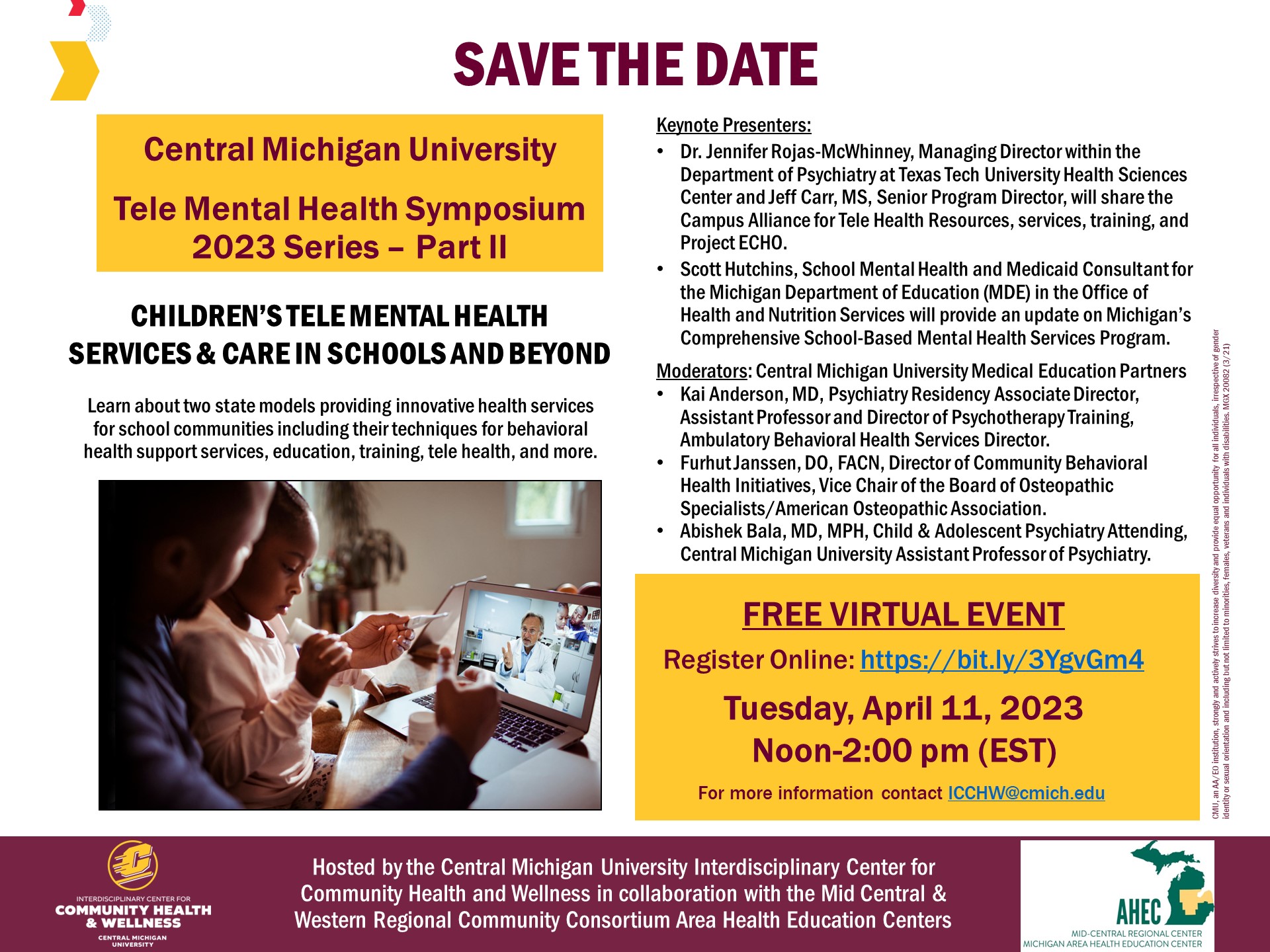 Tele Mental Health SymposiumPart II
Following the success of Tele Mental Health SymposiumPart I, the Tele Mental Health SymposiumPart II of the III-part series, will address Children's Mental Tele Health and Care in Schools and Beyond. The series of topics were developed due to a growing need for more education, policy and practice of tele mental health services to patients of all ages and socioeconomic class. 
Keynote speakers, Dr. Jennifer Rojas-McWhinney and Jeff Carr will be focusing on the Texas State model and Project ECHO, providing innovative tools used to provide services to primary, intermediate and secondary students. Scott Hutchins will share the update on the support provided with Michigan's 31 School-based Mental Health Services Program models. Part II speaker content is approved for 2 Continuing Education Units (CEUs) for participants.
The event is virtual, free to attend and will be moderated by Kai Anderson, M.D., Associate Director, Psychiatry Residency, Assistant Professor/Director of Psychotherapy Training Director, Ambulatory Behavioral Health Services, Central Michigan University College of Medicine,  Furhut Janssen DO, FACN, Director of Community Behavioral Health Initiatives, Vice Chair, Board of Osteopathic Specialists/American Osteopathic Association and Abishek Bala, MD MPH, Fellow, Child & Adolescent Psychiatry; all associated with Central Michigan University Medical Education Partners.
Fourth Annual Tribal Opioid Summit
June 7th and 9th, 2023 at the Soaring Eagle Casino and Resort, Mt. Pleasant, MI
There will be two days of sessions focused on the opioid epidemic in Michigan's Native Communities and the state in general. The theme of the Fourth Annual State & Regional Tribal Opioid Summit is "Healing our Families and Communities Together". There will be multiple keynote presentations and three tracks of workshops highlighting Michigan's efforts. We will bring together tribal and state judges, tribal court personnel, tribal advocates, medical personnel, police, and first responders, behavioral health professionals, therapists, social workers, counselors, as well as community members and organizations.
Supporting and collaborating on such a large-scale conference that will offer over 400 people, mostly from native populations, the latest research, community development, healthcare, and tele-mental health tools is unprecedented. Over two days, the training will be conducted. In this session, presenters will address the subheadings of Prevention/Intervention/Treatment, which address the co-occurring issues of legal and illegal substance abuse and use that can lead to moderate to severe substance abuse disorders.