2023 BCAP Program Application and Mentor Registration is Now Open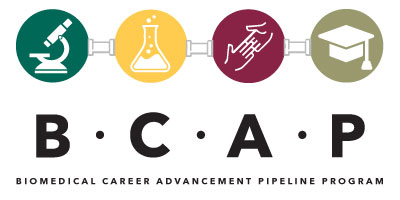 The 2023 Biomedical Career Advancement Pipeline (BCAP) Program, a summer research experience for high school students (grades 10-12) interested in pursuing in health-science careers, is now accepting applications. BCAP is a collaborative program between Michigan AHEC's SE Regional Center hosted by Health Centers Detroit Foundation, Inc., Wayne State University School of Medicine, Detroit Wayne Integrated Health Network, and Detroit Public Schools Community District. BCAP was established in 2014 by Jennell White, PhD, Assistant Professor in the Department of Pharmacology at WSU School of Medicine. The application deadline is February 20, 2023.
We are currently seeking mentors to host Biomedical Career Advancement Pipeline (BCAP) Program-Summer 2023  (6/26/2023-8/4/2023) students. Mentors are eligible to receive funds to purchase supplies to support research efforts. If you are interested in becoming a summer mentor, REGISTER TODAY at this link: https://scdtrl.ripplescience.com/survey/biA5s937JzdfZL79d/A2hQTP2Ysmx4z3HEB/form
The deadline for mentor registration is February 10, 2023.
A video about BCAP was recently produced by WSU School of Medicine Audiovisual and Media Production unit. It can be viewed at https://youtu.be/qaivXAJGS4A For more information about BCAP, visit: https://miahec.wayne.edu/southeast/highschool